ASR, or Automatic Speech Recognition is the ability to collect information from a caller without the use of DTMF (the caller's keypad). Unlike some of our competitors who use speech engines with lower quality, or smaller grammer sets, Nimblevox allows for a full set of grammar. The complexities of setting up speech application have
been hidden within the Nimblevox product.
Nimblevox has the best speech recognition in cloud communications because we have partnered with
Lumenvox. Nimblevox supports the complete suite of products from LumenVox including: ASR, Text-to-Speech, and Call Progress Analysis. LumenVox has won numerous awards for innovation and technical excellence. Based on industry standards,
LumenVox's core Speech Software is certified as one of the most accurate, natural sounding, and reliable solutions in the industry.
In our example we are creating a Speech Recognition service that uses a custom grammers. For basic grammar's such as: Yes/No, Numbers, Currency and Dates you can select these from the drop-down.
The example application is used to select a destination you would like to visit. We then playback the destination using text-to-speech.

The "Collect" tab in the prompt node will be setup to accept custom grammer files.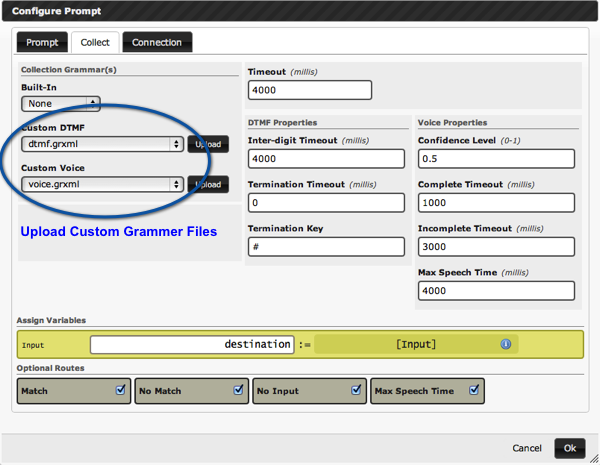 The custom voice file tells the speech engine which words to accept.
      lincoln   austin   phoenix   houston    
The custom dtmf file will translate the keypad input values to the tag. So
1 lincoln will interpret the key press 1 to the city lincoln.
      1  lincoln    2  austin    3  phoenix    4  houston     
Once we receive the input we play the city back using the prompt text-to-speech. It is important to use interpretation and not the typical utterance when using custom grammers.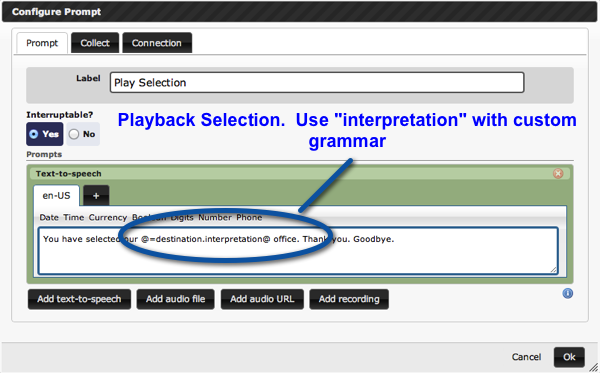 The application and grammer files can be downloaded in the zip file Grammer.zip.